Michael Kraiger loves to draw.
He was born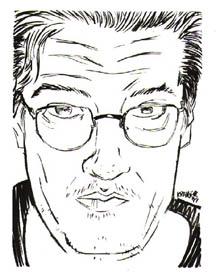 in Cleveland, Ohio.
He began his professional art career drawing illustrations for the Ohio Bell Yellow Pages.
He is the creator of ZONE an original noir comic book series published by Fantagraphics Books and Dark Horse Comics.
Michael has spent time as both a freelance illustrator and advertising agency art director.
He worked as a graphic designer and assistant editor for Marvel Comics and writes stories for DC Comics CARTOON NETWORK line of books.
Since 1999 he has taught drawing, writing and story adaptation at the Joe Kubert School of Cartooning in Dover, New Jersey.
He is the proud father of Maeve.
He currently lives in Jersey City, New Jersey where he has a great view of the Empire State Building.
358 Webster Ave. Jersey City NJ 07307
(216)536-5245 surt58@yahoo.com